Owen Wister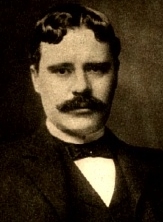 (1860-1938)
Owen Wister was born in Philadelphia as the son of Owen Jones Wister, a physician, and Sarah (Butler) Wister, daughter of the actress Fanny Kemble. The family was interested in arts, Wister's mother played piano and the family frequently traveled abroad. Wister attended briefly schools in Switzerland and England, and studied at St. Paul's School in Concord, New Hampshire and Harvard University.
After graduating in 1882, Wister studied two years music in Paris but he gave up a musical career. He worked as a bank clerk in New York. Due to poor health, he spent some time in the West to restore his physical well-being. In 1885 he entered Harvard Law School, graduating in 1888. Wister practiced law in his home town Pennsylvania before devoting himself to a writing. In 1898 he married Mary Channing, a cousin, and they had six children.
Wister had spent summers in the West, and on the basis of these experiences he wrote Western sketches. The first story, 'Hank's Woman,' appeared in Harper's, and launched his career as a writer. Beginning with his first encounter with Wyoming in 1854, he kept journals and notes, which were published in an edited form in WISTER OUT WEST (1958). In 1891, after a conversation in which the author and Roosevelt discussed the literary potential of his impressions of western life, Wister began writing his stories of America's last internal frontier. They paved the way for the novel THE VIRGINIAN: A HORSEMAN OF THE PLAINS (1902). The work was dedicated to Theodore Roosevelt, and in later editions it had Frederic Remington's illustrations. The story of modest, quit hero, who is more comfortable with his horse than with other people, gained a huge popularity, and was later filmed by four times. In The Virginian Wister created the image of the West that was heroic as well exotic. However, for a modern reader the work can be a disappointment: "The 1902 novel, ancestor of the classic western, turned out to be not only corny and flag-waving but also intolerant and reactionary by today's standards. The story includes sentimental lectures on Americanism that sound like a jingoist speech by Theodore Roosevelt, to whom the book is dedicated." (Herbert Mitgang in The New York Times, December 2, 1989)
Wister's success did not inspire him to write more Western novels, although in his short stories Wister developed the genre of cowboy fiction. In 1904 appeared PHILOSOPHY 4, a story about college life at Harvard. It was followed by LADY BALTIMORE, a novel about aristocratic Southerners in Charleston, and several works of non-fiction. Wister's later major work was ROOSEVELT: THE STORY OF A FRIENDSHIP, 1880-1919 (1930). The biography depicted his long acquaintance with Roosevelt, a Harvard classmate. Besides novels and histories Wister published books for children. Wister's collected writings were published in 11 volumes in 1928. He died in Kingston, Rhode Island on July 21, 1938.