Mrs. Johnson's First Grade Class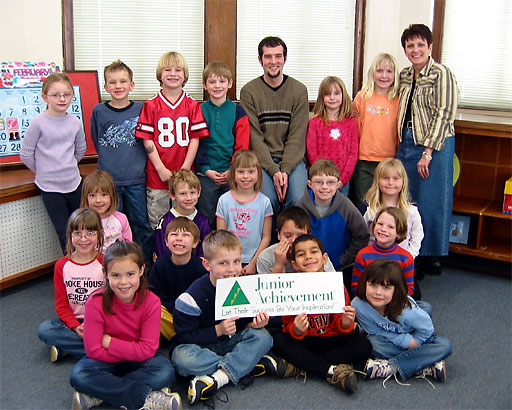 Back row (row 4): Allison, Sam, Gunnar, Jason, Mr. Molascon, Simone, Jennifer, Mrs. Johnson
Row 3: Emily, Hunter, Alexis, Cody H., Miranda
Row 2: Meghan, Garrett, Cody U., Ashley H.
Front row (row 1): Ashley B., Jacob, Sherif, Racheal
Junior Achievement is a growing number of volunteers, educators, parents, and contributors who reach out to 4 million students each year, in grades K-12. It was my great pleasure to represent CreditSoup as a JA volunteer in February 2005. This was my first experience with JA so I was a bit nervous at first, but they made it pretty easy by supplying all the materials, training and resources.
My class was Mrs. Johnson's first grade class at Washington Elementary School. I visited the classroom six times: the first time for observation and then five times to teach the JA curriculum. I must be a lucky guy because this has to be the best first grade class in Madison. These are some of the smartest and coolest kids I have ever met and Mrs. Johnson is an amazing teacher.
I think the biggest thing I took away from the experience is a greater respect and appreciation for how influential teachers are in the lives of youth. Next to parents, teachers probably have the most significant impact on the lives of most children. It was evident to me that Mrs. Johnson cared a great deal for her students. If you are a teacher, I just want to say THANK YOU! Thank you for working for one-tenth the salary that you deserve. Thank you for sacrificing your time and money. Thank you for disciplining children even when parents will not. Thank you for pouring yourselves out into others.